Home
My Lightning Photographs
---
---
I took these pictures at midnight along the Snohomish River looking South West toward Seattle (30 mi. away). It's farm land with no street lights. The flashes were comming every 15 seconds, so I held the shutter open untill I caught a bolt then released. I wish now I would have multi-exposed a few shots for fun.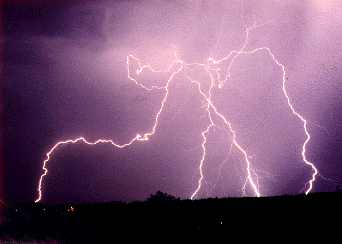 Looking South West toward Seattle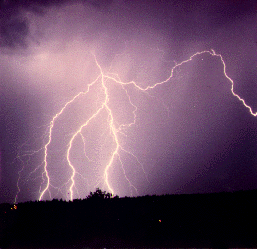 Same location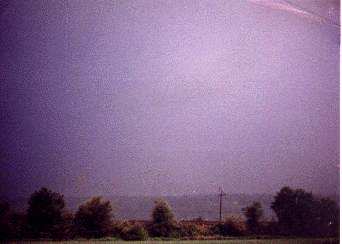 This last shot was also taken at midnight looking roughly in the same direction (note the tree which extends above the horizon on the left, it's in each picture). The light was caused by overhead lightning which lit up the area as if it were day time. In this picture you can get a feel for the size and scale of the lightning because that far off hill is 5+ miles away and that's the horizon line the bolts were behind.
I shot many rolls to get these few lucky shots and saw unbelievable things. Some of the bolts hit the ground between me and the rail road tracks (the first little ridge with the trees), some traveled parallel to the ground but swirling like river eddies above my head...
This was quite an experience.

---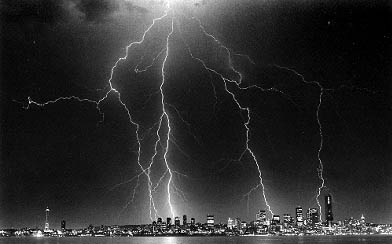 This same storm was featured on the front page of the Seattle Times newspaper the following day. Anyone know the author?

back to Nikola Tesla Page 1
back to Nikola Tesla Page 2
Tesla Information Sources (page 1)
---
I'm part of the Lightning Web Ring... to view other web pages about lightning check these out below.
---