Home
Return to current Music Projects


last update 9/18/03
As we uncover ancient, historic (even crusty) music archives and pics I'll post them here.
---
AS•IS
Tim Scallon (father of AS•IS) has a ton of great original tunes, they're interesting and cover a broad spectrum of styles. His solo effort can be heard on the Tangerine Dream Tribute CD (1st cut). He needs to release a double CD of his own material someday soon and maybe I'll get to help (wink). I have digitized a few rehersal tunes if your interested, they sound great!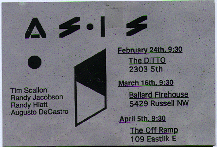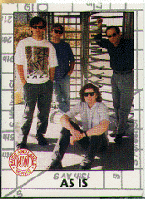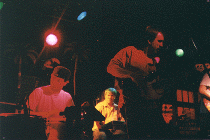 We're on a NW Bands & Labels Trading Card (Vol.3 Card # 88), from left to right Randy Jacobson. (bass), Randy Hiatt (MIDI drums), Tim Scallon (seated, guitar/keys/vocals) & Agusto DeCastro (percush). Far right is a shot of AS•IS at the Ballard Fire House (Tim's elbow is sorta visible). It's been a while since we've played but Tim is always playing in some form or another.
His wife Brenda (whom I had the privilege to also play with) and her band In A Sense is just as cool. She is finishing up her CD now and has a tune on the Posies Tribute cd. Catch them playing around Seattle's art galleries and the occasional clubs. I also have rehersal tapes which I digitized for my listening pleasure.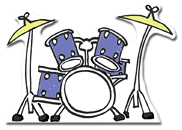 I'd hide my midi drums behind this cutout when we played live.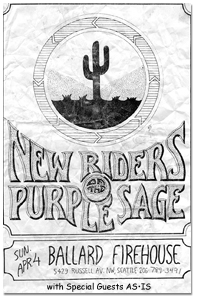 We got to warm up for NRPS. The audience was even our age!

---
Scott Lindenmuth Group
Instrumental Jazz/Rock Fusion. We have been band mates in many musical incarnations over the past 20+ years. I learned allot about drumming trying to keep up with these guys.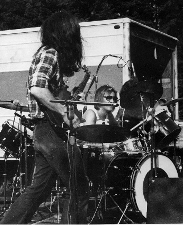 Mid 70's
Early years... included Dave Taylor (bass) and Pat Stone (now guitarist for The MentalMen) Scott Lindenmuth and myself.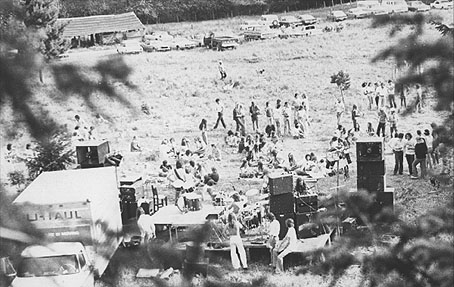 The crowd starts to arrive as we set up the gear for our mini rock festival. Larry Jacobsons band played as well. The photo was taken from a tree top.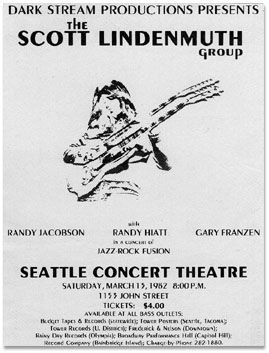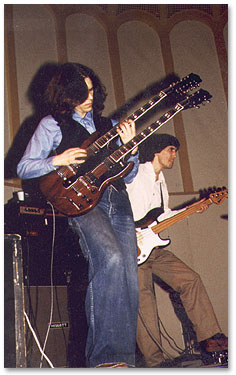 Scott Lindenmuth and Randy Jacobson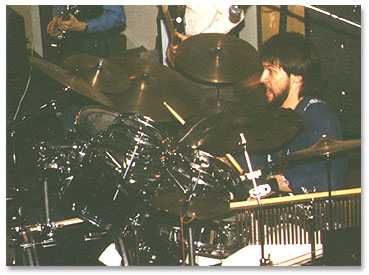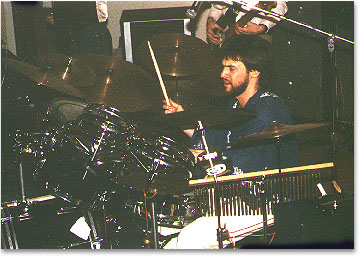 Randy Hiatt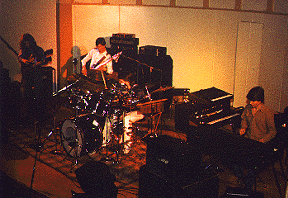 The line up above was: Scotty, Randy J. Randy H. and Gary Franzen.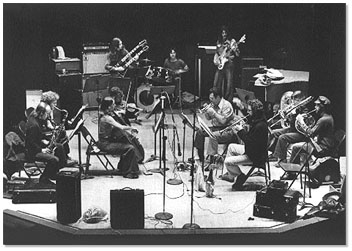 The Cornish Theater (Seattle), Scott, Dave Taylor and I performing for Scotts graduation recital. Scott wrote and charted all the parts. We were in our Mahavishnu Orchestra phase (difficult stuff). Denny Goodhew is one of the sax players, Jim Knapp on trumpet (was also the Cornish music director), sorry, the other names excape me.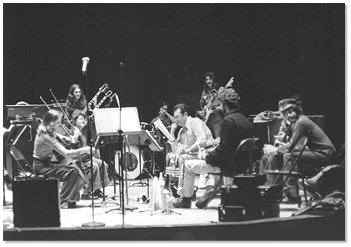 A lighter moment at rehersal as the musicians questioned Scott's arrangement. The answer was always yes, that's how he ment to score it.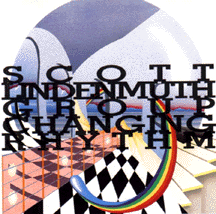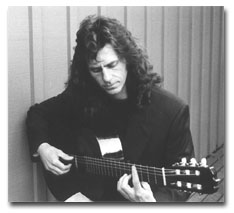 Scott is one of the best guitarists/guitar teachers in the North West. I was lucky enough to play some percussion on his second album release, Changing Rhythm, on Dark Stream Records. Check out his web site for music products, gigs and reviews
http://www.darkstreamrecords.com/index.html
Cosetti and Gemmel
Winners of Best New Jazz Artist at the Seattle Music Awards (year excapes me... early 80's?). Pictured here at the Seattle Mural Amphitheater (in the shadow of the Space Needle). They traveled light, picked up local players (me-drums and Dave Pasquel-bass) for gigs. We had no rehersals, just 2 weeks preperation with their records. They said "we do everything exactly like the recordings". The reality was nothing sounded like their LP's and we were on our own (thank god it was jazz). Jim Panek did a great job running his killer sound system for us.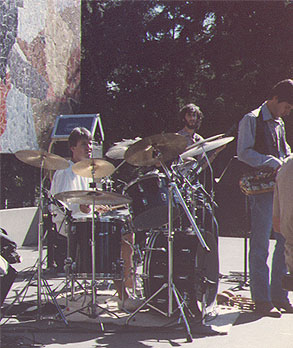 Randy, Dave, Gemmel (horns, keys) and a piece of Cosetti (keys, horns).
---
Home